The Academy's Department of Ichthyology is home to one of the largest and most important collection of fishes in the world, and is designated as one of eight International Centers for Ichthyology in North America. The foundation for the present collection resided in the hold of the schooner Academy on its return from an expedition to the Galapagos in 1906, shortly after the great San Francisco earthquake and fire that destroyed the Academy and almost all of its scientific collections, including the fish specimens. Over the century since the earthquake, the collections have grown and benefited from the incorporation of several valuable collections from other institutions, which has given it worldwide scope. These include collections from Indiana University in 1929 (North American and South American freshwater fishes), the George Vanderbilt Foundation (GVF) in 1967 (western Pacific and Gulf of Thailand marine fishes), and Stanford University (SU) in 1969 (worldwide freshwater and marine fishes). Recent collections, which continue to be processed, include an extensive collection of shorefishes from Fiji made by David Greenfield while at the University of Hawaii; and freshwater fishes from Yunnan, China, and SouthEast Asia collected by Academy staff and associates. The fish collection now numbers more than 225,000 cataloged lots and continues to grow through field activities of the Academy's curators and associates, as well as through deposit of specimens by others. (More about the collection)
The National Science Foundation has been instrumental in the development and growth of the Academy's collections, having provided grants over the past forty years that have aided in the remodeling of the department (1967 through 1969), transfer of the GVF and Stanford collections, aided ongoing collection maintenance through 1989, and assisted our computerization efforts with grants that allowed for processing our neotropical freshwater holdings, capturing data from the SU and Academy catalog ledgers, and digital imaging of photographs and radiographs of our primary type holdings. Currently, nearly 200,000 cataloged lots are in the on-line database, which represents an estimated 80% of the entire collection. Each year about 6,000 specimens are loaned to scientists and students around the world, and about 3,000 new lots are accessioned.
In summer 2004, the Academy moved to a transition site in downtown San Francisco so that the crumbling infrastructure of the institution could be rebuilt on its original site in Golden Gate Park. The fish collection was taken down, jar-by-jar, and placed in plastic bins that were then filled with styrofoam peanuts, stacked onto dollies, and loaded into trucks for the four-mile drive downtown. In 2008, the entire process was repeated on completion of the Academy's dramatic new, eco-friendly building, where the collection is now housed in five environmentally controlled rooms that are state-of-the-art fire and earthquake safe, and equipped with shelves, tanks, and large vats on compactor carriages. The new collection facility allows space for an estimated 10 to 20 years of growth. Our extensive reprint collections (which include the Jordan reprints from Stanford University) are now housed on shelves in a room adjacent to our specimen-preparation room. Our valuable holdings of ichthyological books, which include many rare and valuable volumes, are held in the Academy's main library, with the special, most-valuable books kept in a limited-access, rare-book section.
The bulk of our wet collections with glass jars and other containers (generally less than 20-gal. capacity) occupy three adjoining rooms on the top floor (Level 3, of 5 levels) of the east wing of the Research and Administration (R&A) building. A fourth room on Level 2 (east wing of R&A) continues the run of smaller jars, and includes backlogged collections and all type specimens. A fifth room on Level 2 (west wing of R&A) houses our oversized containers, including large stainless steel tanks and vats; this room is shared with the wet collections of Herpetology, Ornithology & Mammalogy, and Entomology. In total, we have for our smaller containers approximately 18,547 linear feet of 15-inch-wide shelving, with another 3,090 feet (or 10,800 cubic-feet) of "cupboard" space on the bottom of each tier for taller containers. Our tanks and vats on compactor carriages, include two of 248x90x90 cm, 13 of 151x90x90 cm, 96 of 90x38x38 cm, and 16 of 4x38x38 cm. The last two sizes are on pull-out shelving units four shelves high. Two additional older tanks of about 245x60x60 cm are placed directly on the floor, as they are not designed for our compactor carriages. The total volume of our stainless steel tanks is 1,377 cubic-feet. Our skeletal collections are housed in a sixth room on Level 2, shared with Herpetology. The department's darkroom and x-ray rooms are adjacent to the oversized-containers room and Herpetology's wet collections on Level 2. Staff offices and cubicles are located in the west wing on Level B1 (second floor from bottom), with the prep lab and adjoining reprint room and lab storage room (the last two shared with Herpetology) down the hall near the western end of the building. Ichthyology and Herpetology's prep rooms are joined at the back by a shared fume hood.
THE ACADEMY'S RICH ICHTHYOLOGICAL HERITAGE
William O. Ayres, First Curator of Zoology
William N. Lockington, Curator of Zoology
Rosa (Smith) Eigenmann, Curator of Zoology (1884-1886?)
Barton W. Evermann, Director, Executive Curator and Curator of Fishes (1914-1932)
David Starr Jordan, President
Alvin Seale, Aquarium Director
H. Walton Clark, Aquarium Collector and Curator of Ichthyology (1923-1941)
Wilbert M. Chapman, Aquarium Director and Curator of Ichthyology (1943-1947)
Earl S. Herald, Aquarium Director, 1948-1973
Lillian J. Dempster, Curator, Dept. of Ichthyology (1946-1992)
W.I. Follett, Curator, Dept. of Ichthyology (1947-1969)
William N. Eschmeyer, Curator, Dept. of Ichthyology (1967-2006)
Tomio Iwamoto, Curator, Dept. of Ichthyology (1972-present)
John E. McCosker, Aquarium Director (1973-1995), Curator, Dept. of Aquatic Biology (1995-present)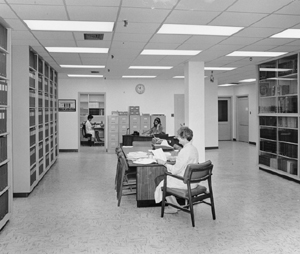 The department library after renovation, 1969.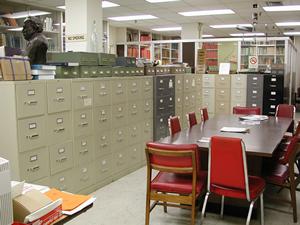 The department library, 2001.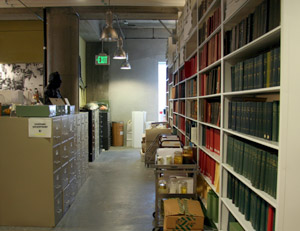 The department library in our temporary site on Howard St., 2006