William N. Eschmeyer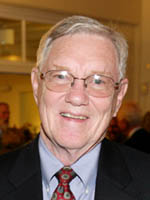 Curator Emeritus
Department of Ichthyology
Current address/mailing address:
Catalog of Fishes Project
159 Tournament Drive #5
Tazewell, TN 37879
e-mail:
Professional Preparation
| | | | |
| --- | --- | --- | --- |
| University of Michigan | Zoology, Fisheries | BSc | 1961 |
| Institute of Marine Sciences, University of Miami | Marine Sciences, Ichthyology | PhD | 1967 |
Appointments
| | |
| --- | --- |
| 2004-present | Curator Emeritus, California Academy of Sciences |
| 1983-2004 | Senior Curator, California Academy of Sciences |
| 1977-1983 | Associate Curator, Curator, Chief Curator, Director of Research, California Academy of Sciences |
| 1967-1977 | Assistant Curator, California Academy of Sciences |
Publications (Selected)
Eschmeyer, W. N. 1965. Western Atlantic scorpionfishes of the genus Scorpaena, including four new species. Bull. Mar. Sci. 15(1):84-164 (thesis)
Eschmeyer, W. N. and E. S. Herald 1983. A field guide to Pacific Coast fishes. Peterson Field Guide Series. Houghton Mifflin Co., Boston. 336 pp., 48 pls.
Eschmeyer, W.N. (and collaborators). 1990. Catalog of the Genera of Recent fishes. Spec. Publ. Calif. Acad. Sci. vi + 697 pp.
Eschmeyer, W.N. 1990. Genera of Recent fishes and the International commission involving fishes. Pp. 671-669. In: Catalog of the genera of Recent Fishes.
Eschmeyer, W.N. 1990. Opinions and other actions of the International Commission involving fishes. Pp. 671-697. In: Catalog of the Genera of Recent fishes. (Eschmeyer, Weitbrecht and Smith-Vaniz)
Paxton, J. R., and W. N. Eschmeyer (Eds) 1994. Encyclopedia of Fishes. Weldon Owen Pty Limited [marketed now by Academic Press].
Eschmeyer, W. N. 1997. A new species of Dactylopteridae (Pisces) from the Philippines and Australia, with a brief synopsis of the family. Bull. Mar. Sci. 60(3):727-738.
Eschmeyer, W.N. 1998. Catalog of Fishes. Special publication No. 1 of the Center for Biodiversity Research and Information, California Academy of Sciences, Eschmeyer editor and primary author. 2095 pp. plus CD [www version appeared in 1997]. Authorship of sections as follows:
Species of Fishes (Eschmeyer, Carl J. Ferraris, Jr., Mysi Dang Hoang, and Douglas J. Long) pp. 25-1820.
Genera of Fishes (Eschmeyer, with assistance from Reeve M. Bailey) pp. 1821-2174.
Species in a Classification (Eschmeyer) pp. 2175-2443
Genera in a Classification (Eschmeyer) pp. 2449-2494.
Literature Cited (Eschmeyer, Hoang, Ferraris, Long) pp. 2501-2847.
Appendix A. Species and genera of fishes and the International Code of Zoological Nomenclature. (Eschmeyer) pp. 2847-2878.
Appendix B. Opinions and other actions of the International Commission involving fishes. (Eschmeyer, Barbara Weitbrecht, William F. Smith-Vaniz) pp. 2883-2905.
Randall, J. E. and W.N. Eschmeyer (2001). A review of the genus Scorpaenopsis (family Scorpaenidae), with description of new species. Indo Pacific Fishes. no. 34: 1-79.
In the early years, my research was in traditional taxonomy - revisions and new taxa primarily of scorpionfishes, stonefishes and their allies. I began on Atlantic groups, then moved to the Indo-Pacific groups. These revisions continued while I spent about 8 years in administration, ending as Director of Research. In the early 1980s, I decided to "organize the information of ichthyology" as I called it. An NSF proposal received mixed reviews - with some thinking it could not be done - but with computers becoming increasingly powerful, I knew I could do it. That first grant request was partially funded, and this started me on an exciting period of my new life. The importance can be summarized in that I did a "little bit of every ichthyologist's research" - tracking down nearly all original descriptions, building a database of all available names in fishes, going to many collections gathering information on types, solving nomenclatural issues and assisting ichthyologists with inquiries.
Note that when Drs. Paxton, Allen, Randall and many others and I began our careers, we had pencils and 3x5 cards. It would take months just to assemble the species and genera names and references one needed for a revision. Now that can be done in less than an hour - a download of all pertinent taxa, references, information on type specimens, full citations to original descriptions, and a guide to recent literature.
The first volume of the Catalog of Fishes, treating the genera, was published in 1990. This was followed in 1998 by publication of all genera, species, and original literature. Regular online editions have been posted continuously since 1998 with technical support from the California Academy of Sciences.
I continue to work on the database nearly daily, with more assistance from NSF, expansion of coverage, and addition of hundreds of "status" references. I have had complete support and freedom to work on this project for the last half of my career at CAS. I went off salary in 2004, with funds for supplies and travel coming from the California Academy of Sciences and some other sources. Recently, Ron Fricke has joined me as a partner - with Ron concentrating on early literature and translations - and he has worked on new databases added at the end of 2008 (museum collections and full citations for 2400 journals containing ichthyological articles).
Of course, I thought the new fish taxa would drop off, but the opposite has happened. New species in 2008 numbered over 500. The taxonomic publications today are the best ever, with good descriptions, consistent spellings of taxa and authors' names, up-to-date literature and wonderful photography. Much of that excellence and consistency I believe is the result of the Catalog of Fishes database, probably the most accurate for any major taxonomic group. Into the early 1900s, the number of authors describing new species in a year was about 50; now hundreds of enthusiastic workers per year have the experience of describing new fish taxa and contributing to our knowledge of fishes. It is an interesting time for us all, and I look forward to receiving pdfs weekly.
My health is good, and I am as enthusiastic as ever to continue the Catalog of Fishes project. I have CAS funding for expenses for 2009 and 2010. Most ichthyologists use the database, and I believe this has made us more efficient and more accurate, probably more so than in any other fairly large taxonomic discipline.
General information and a brief history of the Department of Ichthyology.
Ichthyology curators, collection managers, curatorial assistants, and research associates.
The authoritative reference for taxonomic fish names, featuring a searchable on-line database.
Search for photographs, radiographs, and illustrations of our primary types.
This series serves to provide the most up-to-date taxonomic treatment of the families of recent fishes.
Financial aid for research in the Department of Ichthyology.
Browse past issues of the newsletter.
| | | | |
| --- | --- | --- | --- |
| Contact Info | | | |
For general inquiries about the Department of Ichthyology please contact:
Ichthyology Administrator

415-379-5277