People, Places, and Things
Research at the California Academy of Sciences
---
The Galapagos Islands
John McCosker, Ph.D., Chair of Aquatic Biology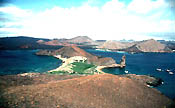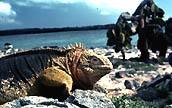 The very name Galapagos invites images of remote desert islands, giant tortoises, and Charles Darwin's visit in 1835 aboard HMS Beagle. Long recognized as a living laboratory of evolution, the remoteness of those mostly uninhabited islands which straddle the equator 600 miles west of Ecuador has made them a mecca for university and museum scientists. The California Academy of Sciences has sponsored and participated in numerous research expeditions to Galapagos in order to investigate and identify the unique flora and fauna. Because of the archipelago's isolation, a large portion of the plants and animals are endemic -- that is, they live nowhere else.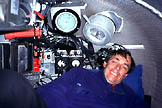 In 1995 I led a research expedition sponsored by the Discovery Channel to continue in my studies of Galapagos fishes, nearly 20% of which are endemic. Using scuba, diving ichthyologists have discovered more than 300 species in waters to depths of 150 feet. With the Harbor Branch Oceanographic submersible "Johnson Sea-Link", we were able to extend those surveys to 3000 feet and photograph, observe and capture fishes and invertebrates, many of which were new records or new to science. And many just plain "got away."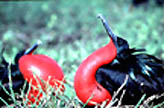 Future studies are needed to determine the ecological interactions and evolutionary history of the Galapagos flora and fauna. However, the pressures of recent human immigrants, increasing (albeit controlled) tourism, accidental introductions of exotic species, and unsustainable fishery practices have seriously threatened the survival of this unique archipelago. The California Academy of Sciences is working toward scientifically-informed solutions to this and other environmental problem areas.
---
Additional Resources:
Aquatic Biology at the California Academy of Sciences
Beyond Darwin - Discovery Channel Online
Charles Darwin Research Station
Galapagos Coalition: Web Pages About the Galapagos
The Nature of Islands: Crucibles of Evolution
Terraquest - Virtual Galapagos
The Voyage of the Beagle: Galapagos Archipelago
---
Return to People, Places and Things
Return to the Research Home Page of the California Academy of Sciences.
California Academy of Sciences, Golden Gate Park, San Francisco, California