VICTORIAN KITCHEN & TABLE TOOLS
The Department of Anthropology at the California Academy of Sciences houses the Rietz Collection of Food Technology, an assemblage of nearly 1400 food-related items. Assembled by Carl Austin Rietz, an American inventor and businessman whose lifelong interests related to the study of food, this international collection documents cultural traditions from around the world that relate to the production, processing, storage and preservation, preparing, and serving of food.
On the following pages, you are invited to take a journey back to the Victorian Period to learn about tableware and kitchen tools. Discover how the 19th Century Industrial Revolution changed the daily lives of mid-Victorian people, not only in terms of food preparation, processing, and serving, but also in terms of eating habits.
The Victorian Culture was a way of life that developed and expanded because of the Industrial Revolution, starting in the British Empire. While the Victorian Period coincided with Queen Victoria's reign (1837-1901), the Victorian Culture is a social phenomenon that not only occurred in Great Britain but throughout Europe and North America. The new British social customs were imitated all over the world.



Click on this Spice Box and learn about changes in British cooking technology.
Click on this cruet to explore changes in English silversmithing.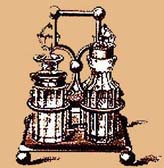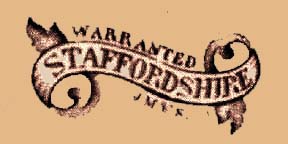 Click here and learn about Staffordshire Blue and White crockery.
Click here and discover the Victorian passion for molded desserts.


Visit our online collection database to search for food-related objects in the
Rietz collection. Search on Collection: "Rietz Collection of Food Technology"
and a category or object of interest.

---
| | | | | |
| --- | --- | --- | --- | --- |
| | | | | |
| | | | | |
| --- | --- | --- | --- | --- |
| Kitchen Technology | Silversmithing | Blue & White Crockery | Food Molds | Victorian Kitchens Home |

©In the Victorian Kitchen content and design by Matilde Gil, 1998.