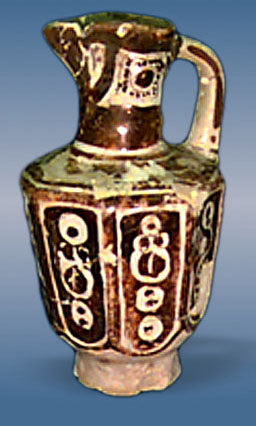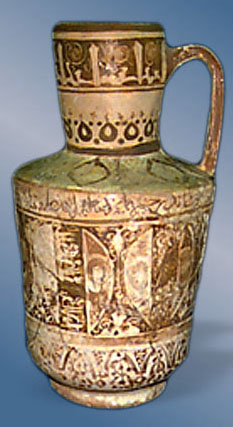 13th century Luster Ware Vessels.
CAS 0389-0344 (left), 0389-0342 (right)
Luster Ware was produced in Kashan, a major pottery production center from the 11th through the 17th century. This technique required the application of pigments over a glaze after the first firing. Potters then fired the pieces at lower temperatures a second time. The pigments used were silver and copper mixed with an earthy medium, resulting in an earthy color and a mother of pearl effect. This tradition continued into the 14th century.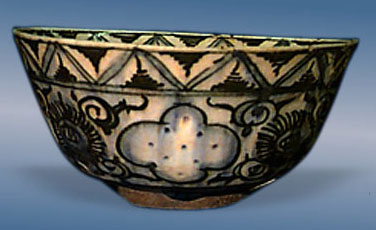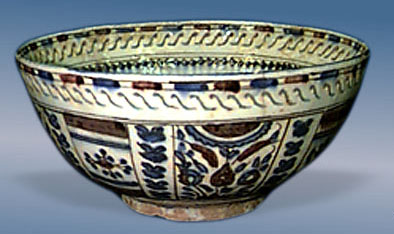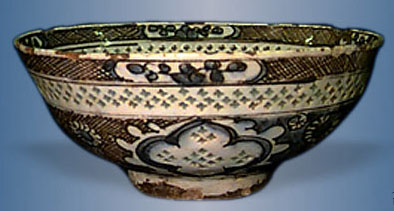 17th century bowls.
CAS 0389-0377 (top left), 0389-0219 (top right), 0389-0457 (bottom)
During the 17th century there was a revival of Luster Ware but with certain variations such as the use of a harder and whiter clay. Decorative painting in brilliant cobalt glaze and motifs such as carnations or foliage suggest an influence of 17th century wares from Valencia, Spain.
The use of polychrome, as in the case of these vessels, dates back to the 10th century when it was applied under a transparent glaze. This technique continued to be used in the Luster tradition, and can also be found in tiles.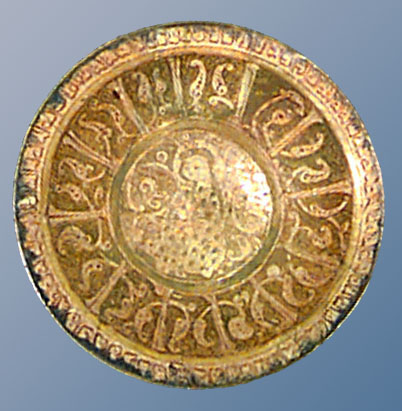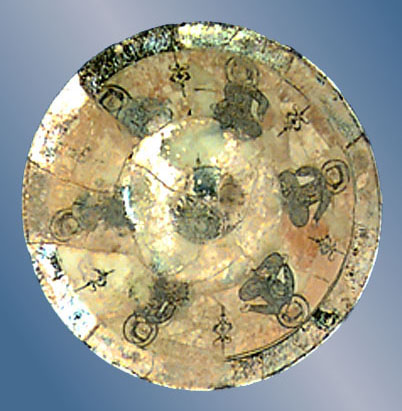 12th-13th century plates.
CAS 0389-0068 (left), 0389-0069 (right)
Monumental Style uses white motifs against a lustrous ground. This style depicted seated figures as well as inscriptions as border decoration. It is common to find the underside of vessels stained cobalt blue.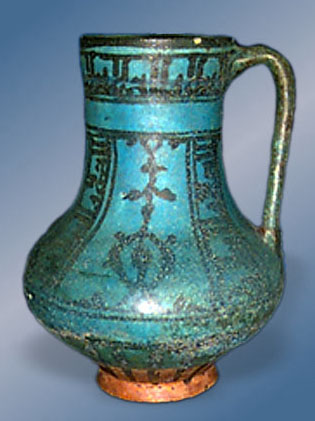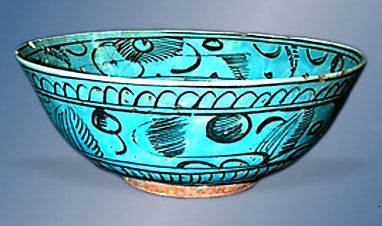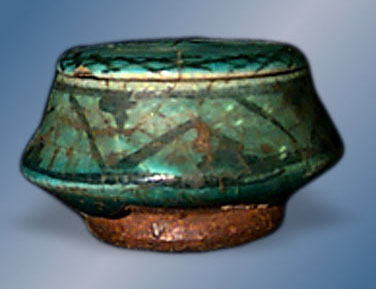 17th century vessels.
CAS 0389-0051 (top), 0389-0381 (lower left), 0389-0327A,B (lower right)
Silhouette Ware dates back to the 11th century and were produced in Kashan. These wares are so named for their black designs that are painted under colored glazes, usually turquoise-colored.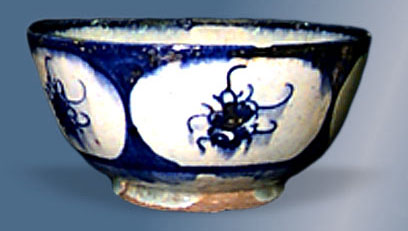 17th century bowl.
CAS 0389-0601
The manufacture of blue and white pottery may date back to the 12th and 13th centuries when various schemes using the two color effect of dark against light were introduced. Production of blue and white pottery greatly increased during the 16th century in Kirman, and continued well into the 17th century.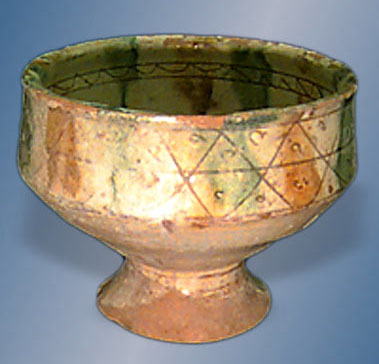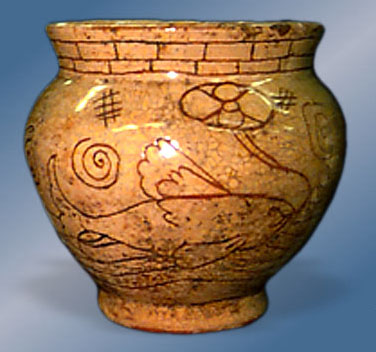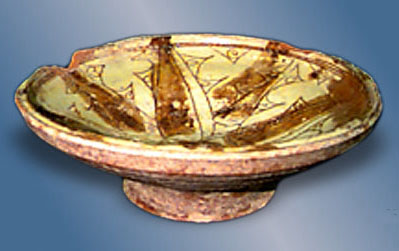 Date unknown.
CAS 0389-0647 (top left), 0389-0350 (top right), 0389-0165 (bottom)
Sgraffito technique was developed by Muslim potters around the 9th and 10th centuries. In this technique designs are incised on the slip covered surface of the vessel, revealing the color of the underlying clay. This tradition continued into the 13th century.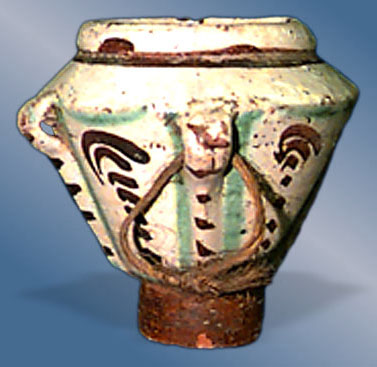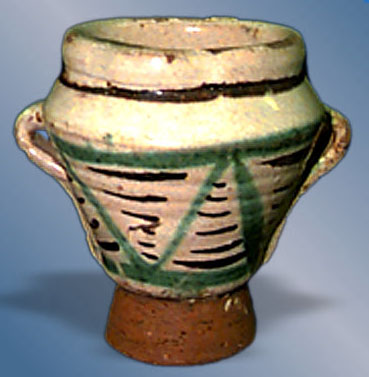 Date unknown.
CAS 0389-0191 (left), 0389-0192 (right)
Color Splashed Wares were characteristic of Early Islamic Period (650 to 1037 CE). Pieces were covered with white engobe (a white clay application) and decorated with dabs and spots in yellow, green or brown and finally covered with a transparent glaze.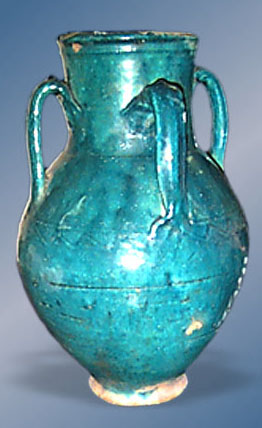 Date unknown.
CAS 0389-0581
Monochrome Wares have been found in Nishapur, a pottery center in northeastern Iran. The use of single color glaze, such as blue-green began during the 9th century.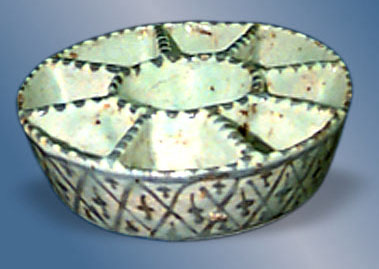 Date unknown.
CAS 0389-0269
At Nishapur, certain unique forms and styles of pottery have been found. This multi-compartmented bowl resembles some found at that site and it probably served as a lamp or candle holder.

Visit our online collection database to search for all of the Persian ceramics in the
Anthropology collection. Search on the category "Pottery" and the culture "Persian."

Top of Page